We offer a full range of auto repair services.
At Chuck's Car Care Center, we've been repairing cars since 1982. We couldn't be the best auto repair facility in the Oak Ridge, Tennessee area if we didn't invest in continuing education and having state-of-the-art equipment. We make certain that our technicians are up to date on their training for newer vehicles, so you can bring us your car, truck, or motorcycle whether it is new or has been providing you with a dozen or more years of reliable performance.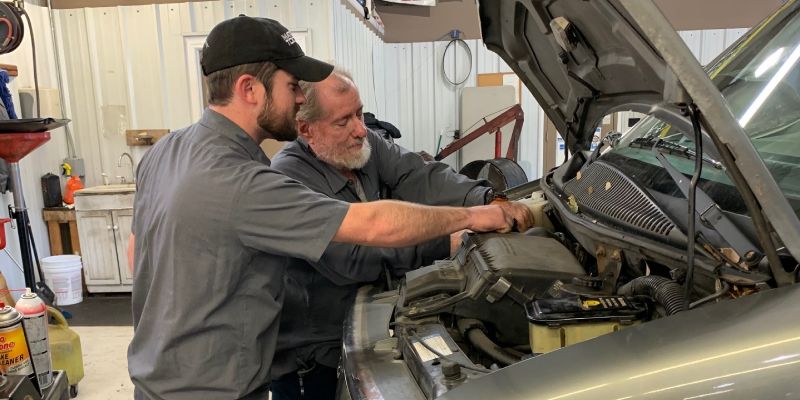 Our 5,000-square-foot, 4-bay auto repair garage and our team are ready to handle everything from minor repairs to engine rebuilds and performance modifications. Feel free to contact us if your vehicle needs brake repair, exhaust work, tires, tune-up, radiator replacement, transmission servicing, air conditioning repair, or anything else. You can rest assured that we'll accurately diagnose the problem and get to work resolving it.

If you need auto repair, schedule an appointment for a time to drop off your vehicle. Wait a brief time for our diagnostics review and complete analysis, and then we can shuttle you to wherever you need to go while we work on your vehicle. Alternatively, you can relax in our comfortable waiting area or our business work area with wireless internet connection so you can work while you wait. We are also willing to deliver your vehicle to your location within a 10-mile radius. Reach out today with any questions you might have about our auto repair services.
FAQs About Auto Repair
Here at Chuck's Car Care Center, we've been providing exceptional auto repair services for our customers for over 40 years. We understand that there's no shortage of disreputable companies that will take advantage of you, which is why we want to provide answers to some of the common questions we get asked to help encourage you to trust our team to handle all your auto repair needs.  
Hidden
What can I do to help avoid needing serious auto repairs?
Aside from practicing safe driving habits to avoid accidents, the best way to keep your car in good condition is to take it to a service station regularly for essential services like oil changes, tire rotations, fluid checks, brake inspections, and other general maintenance.
How do you determine what kind of auto repair my vehicle needs?
There are a number of diagnostic tests we can perform to pinpoint the cause of whatever issue you are experiencing. We don't like guesswork anymore than you do, so we use cutting-edge equipment to ensure we correctly diagnose and fix any problems, and our team is trained to be thorough and attentive to all the details when it comes to caring for your vehicle.
How are you different from other auto repair shops?
In addition to our 40+ years of experience, highly trained team that's passionate about what we do, and state-of-the-art tools and equipment, we genuinely care about each of our customers, both new and long-time, and we want to ensure you have a safe vehicle to drive. We offer shuttle services to get you where you need to go while we service your vehicle, or you can always feel free to wait in our clean and comfortable waiting area. We also offer vehicle delivery services to customers within a 10-mile radius of our shop.
Similar Services We Offer: